O'Neill's Transportation service is a vital connection to medical care for hundreds of seniors across Washington County. We are proud to encompass a growing fleet of vehicles to ensure seniors have the necessary means to get to the vital care they need.
Do you find yourself or a loved one:
Without a vehicle?
With no one to help you get to medical appointments?
Cancelling medical appointments because you don't have a ride?
Asking family members to leave work to take you to medical appointments?
Require a wheelchair, and don't have a handicap accessible vehicle?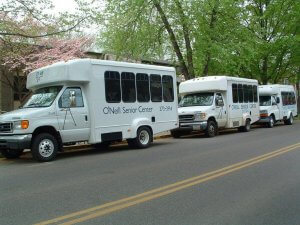 If you answered yes to any of these questions, you may benefit from our Medical Transportation Service. This service is available to those age 60 and above who reside in private dwellings in Washington County, OH. Our specially trained drivers offer door to door service in our comfortable, air conditioned vans which are equipped to accommodate those with special mobility needs.
Reservations are required and can be made Monday through Friday by phoning the Transportation Coordinator at (740) 373-3914. You may also contact the Coordinator by filling out the Medical Transportation Request Form. We prefer as much notice as possible and operate on a first come, first serve basis. O'Neill Center cannot provide transportation in emergency situations.
 This is an affordable option offered on a donation basis. Local Funding is provided in part through Washington County Senior Services Levy, Older Americans Act grant administered by ODA through Buckeye Hills Regional Council and Washington County United Way.
For information about public transportation and the CABL bus routes: http://www.wmcap.org/transportation.html